HSBC moved vast sums of dirty money after paying record laundering fine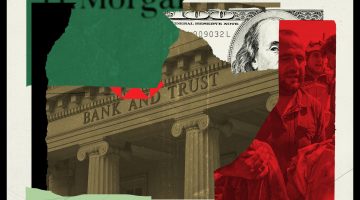 In March 2014, three men kidnapped Reynaldo Pacheco and bludgeoned his head with rocks, leaving the 44-year-old father of a young daughter dead in a creek bed in California's Napa County. Local authorities determined that his murder was a consequence of an investment fraud that targeted low-income Latino and Asian immigrants around the world.
Like other victims of the World Capital Market scheme, or WCM, Pacheco energetically promoted the deal to relatives and acquaintances. When the Ponzi scheme collapsed, an unlucky investor decided to have him killed.
Four days before Pacheco was beaten to death, compliance officers at the global banking giant HSBC raised a warning about millions of dollars flowing into a big-dollar account in Hong Kong controlled by the scammers. It was at least the third in a series of so-called suspicious activity reports that the bank's internal watchdogs had lodged about WCM over several months.
Yet HSBC continued to handle the Ponzi network's massive flow of dirty money into — and out of — its accounts at the bank.
HSBC was profiting from an international criminal scheme even while on probation for having served murderous drug cartels and other criminals. HSBC had admitted to U.S. prosecutors in 2012 that it had helped dirty money flow through its branches around the world, including at least $881 million controlled by the notorious Sinaloa cartel and other Mexican drug gangs.
In a controversial decision, prosecutors declined to seek an indictment of the bank but instead allowed it to pay a $1.92 billion settlement and serve five years of probation during which its efforts to prevent money laundering would be monitored by a court-appointed watchdog. The court named a former top New York state financial crimes prosecutor, Michael Cherkasky.
A 16-month investigation by the International Consortium of Investigative Journalists, BuzzFeed News and 108 other media partners has found that HSBC continued to provide banking services to alleged criminals, Ponzi schemers, shell companies tied to looted government funds and financial go-betweens for drug traffickers. This occurred even while the bank was on probation and under Cherkasky's scrutiny.
The FinCEN Files investigation found that HSBC's highly profitable branch in Hong Kong played a key role in keeping the dirty money flowing. Although providing only a partial view of HSBC's suspicious activity reports, the records show that between 2013 and 2017, HSBC's U.S. compliance staff, who are charged with monitoring customer activity, filed reports lacking crucial customer information on 16 shell companies that had processed nearly $1.5 billion in more than 6,800 transactions through the bank's Hong Kong operations alone. More than $900 million of that total involved shell companies linked to alleged criminal networks, according to an analysis by ICIJ and its media partners.
In a statement, HSBC defended changes the bank made under the monitorship. "Starting in 2012, HSBC embarked on a multi-year journey to overhaul its ability to combat financial crime," said Heidi Ashley, a spokesperson for the bank. "HSBC is a much safer institution than it was in 2012."
The bank told ICIJ that it increased its compliance staff from a few hundred members in 2012 to several thousand in 2017 and invested more than $1 billion in compliance initiatives since 2015. "Though we have made significant improvements in our financial crime compliance programme, we are continually seeking ways to improve," the bank said in a statement.
The investigation is based on a review of dozens of leaked suspicious activity reports, or SARs, as well as interviews with more than a dozen former HSBC anti-money-laundering employees. Banks doing business in the United States submit the confidential reports to an intelligence office within the U.S. Treasury Department known as the Financial Crimes Enforcement Network, or FinCEN. Suspicious activity reports reflect concerns of watchdogs within banks and are not necessarily evidence of any criminal conduct or wrongdoing.
Leaked records show HSBC processed at least $31 million between 2014 and 2015 for companies later revealed to have moved stolen government funds from Brazil; and more than $292 million between 2010 and 2016 for a Panama-based organization branded by U.S. authorities as a major money launderer for drug cartels. The organization, Vida Panama, denies wrongdoing and is fighting the U.S. designation. The records show HSBC worked with a bank in Tiraspol, within Moldova's breakaway territory of Transnistria, for four years after the U.S. Treasury Department issued a 2011 advisory warning of the risks of doing business with the Tiraspol bank.
Why are we filing SARs? … Nothing is actually being done.– Alexis Grullon
In interviews with ICIJ and BuzzFeed News, more than a dozen former HSBC compliance officers expressed deep concerns about the bank's anti-money-laundering program, even during its probationary period. Compliance officers said that the bank did not give them enough time to meaningfully investigate suspicious transactions and that branches outside the U.S. often ignored requests for crucial customer information. They said they were treated as a second-class workforce within the bank, with little power to shut down problematic accounts.
The FinCEN Files raise new questions about the U.S. Justice Department's decision in 2012 to forgo indicting HSBC or any bank executives in the Sinaloa cartel case. The decision was opposed by rank-and-file prosecutors, who had prepared a list of up to 175 criminal charges against the bank that the government ultimately shelved. No one went to prison over the bank's historic wrongdoing. The findings also raise questions about the department's decision, five years later, to pronounce HSBC reformed and allow its probation to lapse. The investigation builds upon ICIJ's previous Swiss Leaks project, which exposed how HSBC's Swiss private banking arm profited from doing business with tax dodgers and criminals around the world prior to 2008.
FinCEN Files documents show that HSBC knew regulators were investigating its customer, the WCM Ponzi scheme, even as it helped move its money.
A federal class-action lawsuit brought by bilked investors alleged that HSBC Hong Kong was "instrumental in helping WCM777 to continue its Ponzi scheme." A federal judge dismissed the suit last month, ruling it had been brought in an improper jurisdiction.
In an exclusive interview with ICIJ, the Ponzi scheme's bow-tie-sporting founder, Ming Xu, said HSBC did not contact him to ask about massive money flows WCM was moving through the bank's Hong Kong accounts.
Banks' SARs form the backbone of U.S. authorities' attempts to fight money laundering, but the system fails to stop deluges of dirty money. Banks can, but are not necessarily required to, block or close accounts suspected of being used for money laundering, and they can fulfill a key legal obligation by simply reporting the transactions to FinCEN. The office received more than two million of those reports last year, more than its agents could hope to read.
The SARs reviewed by ICIJ and its partners include 73 reports filed between 2012 and 2017 by HSBC. The documents contain information on more than $4.4 billion in more than ten years of transactions reported as suspicious. That amounts to a tiny fraction of the tens of thousands of SARs HSBC files each year but offers a window into the bank's troubled compliance efforts.
The confidential records and interviews with former employees reveal that compliance officers often filed SARs lacking even basic information about who owned companies banking with HSBC, the nature of their businesses, and where the money came from. Sometimes, records show, they asked branches for the information and were ignored or rebuffed.
"It was impossible to do the job without this information," said Alexis Grullon, a former compliance officer who monitored international suspicious activity for HSBC's New York offices from November 2012 to August 2014. Grullon said that, in most cases, HSBC branches in other countries would simply ignore his requests for ownership information about suspicious accounts.
"They would say: 'Sure, we'll get back to you.' But they'd never get back," he recalled.
Grullon said that a key component of his job was submitting SARs to the federal government but that the reports did little to stop customers' suspicious activities.
"Why are we filing SARs?" Grullon recalls wondering. "The account is still open. Nothing is actually being done."
'The world's local bank'
Founded in Hong Kong as the Hong Kong and Shanghai Banking Corp. in 1865, HSBC prospered managing British government accounts across East Asia. By the mid-2000s, the bank had become one of the world's most pervasive retail financial institutions, with thousands of branches in more than 70 countries, dubbing itself at one point, "the world's local bank."
It was more than a slogan. Under the global brand, HSBC operated as a loose confederation of largely autonomous fiefs. This degree of decentralization meant that the bank's headquarters, which moved to London in 1941, extended its hands-off approach even to anti-money laundering questions.
One result: HSBC accepted clients whose massive wealth translated into big profits but who turned out to be criminals.
In 2003, HSBC agreed to a consent order drawn up by U.S. authorities in which the bank promised to fix its anti-money laundering program and empower compliance officers by providing better tools and information about customers.
Instead, the bank took part in one of the most notorious episodes in money laundering history. As the Mexican drug war metastasized in the mid-2000s, the bank provided essential U.S. dollar-denominated accounts to narco-gangs needing to clean hundreds of millions of dollars in drug earnings. The cartels designed specially shaped boxes that fit HSBC's teller windows to deliver the massive amounts of illicit cash pouring in.
In 2010, the bank was forced to submit to another court order secured by its primary regulator, the U.S. Office of the Comptroller of the Currency. The bank promised to boost anti-money-laundering systems and provide compliance officers with more information about its clients — again.
In the summer of 2012, the U.S. Senate investigative panel released its 339-page report on the bank's work with Mexican narco-gangs and its role in terrorist financing. Later that year, the Justice Department and HSBC reached their deferred-prosecution agreement. Critics cast the government's decision to forgo indictment of the bank or any of its executives as a sign of big banks' virtual impunity from meaningful consequences for their misdeeds.
Hong Kong
Although no longer the banking giant's headquarters, Hong Kong remains the beating heart of HSBC. In 2015, its operations in the island territory, which include a subsidiary called Hang Seng Bank, accounted for nearly half of HSBC's global profits, and its market share in Hong Kong dwarfs that of its competitors.
On June 20, 2012, the same day HSBC's attorneys were describing the bank's anti-money-laundering protocols to Senate investigators on Capitol Hill, HSBC's Hong Kong branch began transmitting funds for a shell company called Trade Leader Corp. Ltd.
By February 2014, transfers into and out of the shell company's Hong Kong accounts totaled more than $581 million.
Records from the FinCEN Files show that, when the bank's U.S. compliance staff asked for information about who owned the big-dollar account, HSBC's Hong Kong bankers simply responded that there was "none available."
According to a review of data collected by an ICIJ media partner, the Organized Crime and Corruption Reporting Project, Trade Leader Corp. Ltd. was a major East Asian node in the "Russian Laundromat," a sprawling network that moved criminally tainted money from former Soviet states to the West. Incorporated in Hong Kong, Trade Leader lists one company official in its 2015 filing in the Hong Kong corporate registry, a director whose address is an apartment unit in a decaying Soviet-era building in the far-eastern Russian city of Novosibirsk.
In 2014, Hong Kong's corporate registry listed Trade Leader's sole shareholder as a company called INHK Ltd. In an email to ICIJ, Trade Leader's registration agent, a firm called Intercorp Asia, acknowledged that INHK's only purpose was to hide Trade Leader's true owner, known as the "ultimate beneficial owner," or UBO.
INHK does not have "any business activity and [is] used to hide the real UBO information in [the] company registry of HK," Alex Orso, an Intercorp representative wrote. He declined to share further information about Trade Leader.
Trade Leader was not an isolated case. Though documenting only a tiny fraction of HSBC's activities during this period, the FinCEN Files reveal a striking tolerance of questionable customers within HSBC's Hong Kong branch.
ICIJ analyzed nearly $1.5 billion in transactions that flowed through shell companies holding commercial accounts with HSBC Hong Kong between 2011 and 2016. In each case, HSBC filed SARs that failed to include fundamental facts about the bank's own big-dollar customers, including who owned the accounts, what countries the owners lived in, and where the money came from.
The U.S. Senate's 2012 report on HSBC highlighted the danger of bank compliance officers remaining in the dark about such basic information.
"Information sharing was one of the major things HSBC promised they were going to do," said Elise Bean, lead author of the Senate report and former aide to then-Sen. Carl Levin, Democrat of Michigan.
The FinCEN files show that HSBC broke the pledge repeatedly.
In mid-2013, a shell company client, Vic Charm Ltd., sent or received more than $80 million through HSBC Hong Kong accounts during the first several months of the bank's probation. HSBC compliance officers listed virtually nothing about the firm, aside from a series of Hong Kong addresses linked to it and the name of an owner, about whom the officers said they knew nothing, not even the person's country of residence. In 2015, prosecutors in Malawi alleged that the shell company had received $3.8 million in a scheme to launder money out of the resource-deprived country.
The case remains pending, according to a statement from the Reserve Bank of Malawi, which is involved in pressing the laundering charges.
In February 2016, well into HSBC's probation period, bank compliance officers asked the Hong Kong branch about a suspected laundering operation involving a customer called Enjoy Trading Shanghai Co., but had received no response before filing a SAR one month later.
In May of that year, the bank's compliance staffers filed a report on a former HSBC Hong Kong customer called Alahdin Limited, saying that documents posted to the internet alleged that more than half a trillion dollars in transactions had flowed through the firm. Relying on information received from HSBC's Hong Kong branch, the report offered almost no information about the company's ownership, listing Alahdin's owner with merely a first name and initials — "SHAHUL H H M" — along with an email address.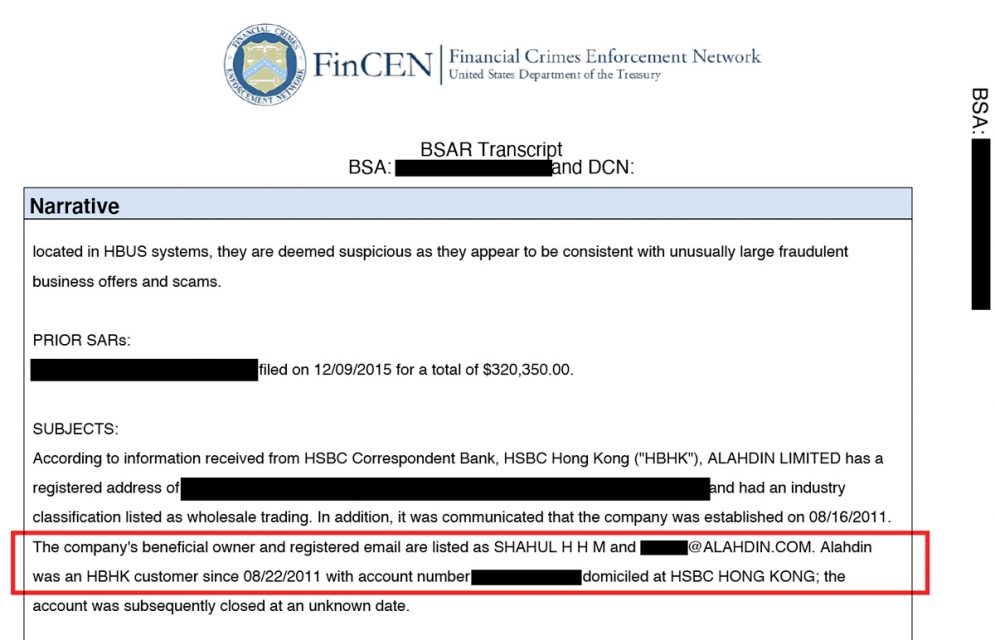 The report did not note that Alahdin, a company registered in Hong Kong, had two years prior changed its name to the Abu Dhabi National Oil Company Ltd. Little is known about this company, but it shares its name with one that decades ago created Pakarab Fertilizers Limited, a subsidiary of Pakistan's Fatima Group, according to the group's website. In 2012,  U.S. military officials accused Fatima's fertilizer operations of providing chemicals used to make Taliban roadside bombs targeting U.S. and other coalition forces in Afghanistan.
Profit Accounting Company Limited, a firm that Hong Kong registry documents say acted as Alahdin's corporate secretary, told ICIJ it had no record of ever having worked with the firm. Fatima Group did not respond to multiple requests for comment.
In July 2016, HSBC filed a suspicious activity report on a customer called Cool Distribution Ltd., which had sent or received more than $92 million between 2011 and 2015 through the bank's accounts. ICIJ's research found that $19 million of that amount went to a company run by a businessman who had been convicted in a 2015 tax fraud case in Bologna, Italy, involving Italian organized crime.
The SAR lists three names for Cool Distribution's owners, but without addresses, country of residence or other basic information. Two of the names have been linked to a Hong Kong financial fraud scandal, another belongs to a Russian intellectual property tycoon who denied to ICIJ knowing anything of Cool Distribution. HSBC's report listed a Dubai address for the company but searches of corporate registries in Dubai and the United Arab Emirates found no record of the firm.
In March 2017, HSBC filed a report on another suspected money laundering account — a shell company called Well Fortune HK Ltd., which had moved more than $167 million in transactions through HSBC accounts over more than five years. The bank listed addresses for the company in Russia and Hong Kong, an email address and the name of a purported owner but no other identifying information, including the person's country of residence.
Well Fortune's 2014 filing in the Hong Kong corporate registry lists Adrian Matthew Bradley, a resident of Belize, as its sole shareholder. Bradley's name appears on records of dozens of shell companies around the world, according to leaked documents and public records. ICIJ sent requests for comment to Bradley's apparent email address, but received no response. Bradley is a "decoy name" for a Ukrainian oligarch named Serhiy Kurchenko, according to an article published by the Atlantic Council, a Washington-based think tank. Ukrainian prosecutors have accused Kurchenko of amassing millions of dollars via tax evasion and stealing from bank investors. In March 2014, the EU sanctioned him for his alleged links to state corruption. The following year, the U.S. sanctioned Kurchenko.
In September 2013, not long before financial regulators around the world announced investigations into the business, the leaders of WCM moved the Ponzi scheme's headquarters from Los Angeles to Hong Kong.
In October, Colombia's then-President Juan Manuel Santos announced that the national police would launch an investigation into allegedly illegal activities by the business. Three days later, HSBC compliance officers filed the first of several suspicious activity reports related to WCM accounts, noting that more than $6 million in transactions had moved through a single account over the preceding three months. The SAR said an internet search had revealed "Ponzi allegations" against the business.
Four months later, in February 2014, HSBC filed another suspicious activity report on the scheme, saying WCM had received or sent $15 million between 2013 and early 2014 through its HSBC Hong Kong account and company accounts with other banks to which HSBC provided U.S. dollar services. By then, authorities in Peru, Colombia, California and Massachusetts had publicly launched civil or criminal investigations into the company.
Yet massive dollar amounts kept flowing into the Hong Kong account.
Shane Riedel, a former HSBC compliance executive who now runs a Berlin-based anti-money-laundering consultancy, says a bank in this situation should take action.
"If a Ponzi scheme is flagged in one country and the accounts are not closed in another, that's not a mistake," Riedel said. He added that banks' systems for analyzing and sharing compliance information are often inadequate.
In March 2014, HSBC compliance officers filed yet another suspicious activity report on WCM, whose business continued to hum despite intense law enforcement scrutiny around the globe. Four days after the report was filed, the U.S. Securities and Exchange Commission obtained a restraining order that sought to freeze the company's bank accounts.
But even after the SEC order, WCM's accounts at HSBC remained highly active. According to court documents later filed by attorneys appointed by the SEC to seek restitution for the scheme's victims, WCM drained more than $7 million from the accounts during the following week, drawing its balance to zero.
HSBC's 2010 cease-and-desist order stipulated that the bank must examine its handling of subpoenas and law enforcement inquiries. Eleven days after the restraining order, HSBC Hong Kong formally declined to comply with a U.S. court's subpoena for records.
"Our bank is outside the jurisdiction of U.S. courts," HSBC Hong Kong's law firm said in a letter to lawyers seeking money for victims. By February 2015, the bank had not provided account information to the attorneys. As a result, "the cost of tracing these funds overseas will be very expensive," the lawyers said in a court filing of the HSBC accounts and an account with UBS bank that had allegedly moved more than $2 million in transfers relating to the scam.
The SEC alleged that the scheme had used accounts at a variety of banks in addition to HSBC, but little is known about those accounts, including exactly how long they remained active. A summary of the forensic accounting report filed by the SEC-appointed lawyers focused largely on the HSBC Hong Kong accounts.
Meanwhile, WCM executives bought golf courses in Southern California, million-dollar homes and vacant land in Santa Barbara County that the scheme's zealously religious founder, Ming Xu, told ICIJ was supposed to become a Christian "community of caring and sharing."
In early 2014, 29-year-old Elvis Callejas was working toward his dream of building a set of retail stores in Bolivia's rural northernmost region. But he was forced to lay off the men helping to construct the project when his savings of $10,000 evaporated in WCM's collapse. "I realized that I had fallen into a trap," Callejas told ICIJ.
Callejas found himself taking out loans to cover the sudden loss. "That is a very large amount of money here," Callejas said.
Reynaldo Pacheco, the WCM investor murdered in Napa County, was also not a rich man. According to local law enforcement, he had searched for years for business opportunities and believed that WCM was a legitimate investment. Three people were later convicted for his kidnapping and murder.
Ming Xu, denies that WCM was a Ponzi scheme and told ICIJ that the SEC had "plundered" him. When he returned to mainland China in early 2015, he started a new version of WCM there, according to Chinese court documents. In November of that year, Chinese authorities arrested Xu for related financial crimes. He was subsequently convicted and spent three years in prison.
The Chinese court documents in Xu's case state that his venture in China had accounts with a list of Chinese banks, along with a single global bank: HSBC.
You can't get a man to believe in something when a salary depends on him not believing it.– Mike Coates
HSBC's 2012 deferred prosecution agreement (DPA) was cast by Justice Department prosecutors as serious punishment – akin to a criminal reporting to a probation officer – bringing both serious consequences and strict oversight. It required, for instance, the bank to tie executive bonuses to the progress of its anti-money-laundering systems. Top salaries were supposed to be reduced if compliance fell short.
By 2014, HSBC was back to paying huge executive bonuses, including more than $2.5 million for then-Chief Executive Stuart Gulliver. The bonuses were so large that the bank had to exploit a loophole in EU regulations meant to keep bank executive bonuses from exceeding twice their yearly salary. The bank circumvented this by providing its senior executives with large "allowances."
"HSBC substantially revised its approach to remuneration in the context of our financial crime reforms to ensure that it captured our expectations for employees around risk and compliance," HSBC's Heidi Ashley said. "As disclosed in our annual report and accounts, since 2013, a portion of our Executive Directors' variable pay awards have been expressly linked to risk and compliance measures to underscore the Group's commitment." Ashley noted that the new executive pay plan was assessed by the monitor and approved by U.K. financial regulators.
The DPA had given wide latitude to the bank's independent monitor, Michael Cherkasky, who submitted to prosecutors annual reviews of HSBC's anti-money-laundering performance. The reviews are secret, but short summaries published in court documents offer glimpses of Cherkasky's dissatisfaction at times. In 2016, for instance, the monitor mentioned, "instances of potential financial crime" occurring within HSBC's accounts. It also questioned whether HSBC was satisfying all requirements of the DPA.
As HSBC's probation neared its end in 2017, prosecutors mulled whether to let the probation lapse.
In December of that year, the Justice Department agreed to allow the bank's probation to end. The bank claimed that it had "lived up to all of its commitments" under the DPA.
The news stunned one HSBC senior anti-money-laundering executive, who left the bank shortly after the DPA expired. The executive, who asked to speak anonymously for fear of retaliation by the bank, identified Hong Kong as the epicenter of the bank's financial crime problems and said the issues there had remained "largely untouched" during the monitorship.
The former executive credited HSBC for bringing in top talent to address the DPA, including former FinCEN chief Jennifer Calvery, but said the bank's leadership often appeared unaware of how difficult the changes were to implement on the ground level.
Six former HSBC employees interviewed by ICIJ said the ending of the DPA coincided with a broad cultural shift at the bank toward profit-making over compliance. The shift, they said, included layoffs, lapsing contracts of anti-money-laundering staffers and the closing of a transactions-monitoring office in New Castle, Delaware.
HSBC declined to share numbers regarding its staffing after the DPA, but noted that its financial crime compliance personnel had grown to roughly five thousand in 2017. In comments to ICIJ, the bank also touted initiatives to fight laundering it made after the DPA's lifting, including a platform it launched in 2018 to analyze social networks to make it easier for the bank to identify customers potentially involved with criminal networks. The bank says it screens 689 million transactions across 236 million accounts per month.
In a statement to ICIJ and its reporting partners, the department of justice defended its record of enforcement actions against big banks.
"The Department of Justice stands by its work, and remains committed to aggressively investigating and prosecuting financial crime — including money laundering — wherever we find it," Matt Lloyd, a spokesperson for the department's Criminal Division, said.
Since the DPA's conclusion, the bank and U.S. authorities have vigorously fought to keep Cherkasky's monitoring reports secret.
In November 2015, Hubert Dean Moore Jr., a homeowner who sued HSBC, alleging that the bank had mishandled his request for mortgage relief, asked a federal judge in New York to unseal one of Cherkasky's reports on HSBC. The judge agreed, but an appeals court panel overturned the decision, siding with the Justice Department's argument that the report was not a releasable document. Cherkasky's reports remain under seal.
In 2019, ICIJ partner BuzzFeed News sued for the release of Cherkasky's final report, arguing that the public's interest in understanding the government's handling of the HSBC case demands that it be unsealed. The Justice Department continues to fight to keep the Cherkasky report sealed and has sought repeatedly to delay preliminary hearings, citing the coronavirus pandemic. The suit is pending.
Mike Coates, a former HSBC employee who worked on financial crime compliance during the DPA and left the bank in 2018, said the industry's profit-focused incentive structures can still override the fight against financial crime.
"You can't get a man to believe in something when a salary depends on him not believing it," said Coates, who declined to provide specifics about his time at the bank. "That's the biggest challenge you have in this industry."
Contributors: Jason Leopold, Anthony Cormier, Kyra Gurney, Roman Anin, Emilia Diaz-Struck, Agustin Armendariz, Delphine Reuter, James Oliver, Golden Matonga
The post HSBC moved vast sums of dirty money after paying record laundering fine appeared first on ICIJ.
Analyzing the Case for Election Fraud
Despite the overwhelming pressure, if you can't help but feel that tingling sense of knowing that is telling you there's more to the story, you are not alone. In fact, according to a new Rassmussen poll, nearly 50% of voters believe the election had issues. A quick look at the data blatantly shows that indeed, shenanigans abound (how can a state have 1+ million more mail-in ballots tallied than they sent out?). But was it fraud or masterful gamesmanship?
The world, or at least the global media, has spoken: Biden won the 2020 Election.
UPDATED FREQUENTLY WITH NEW INFORMATION – Last update 12/21/2020
A quick Google search reveals pages upon pages of reports of why the Trump team's assertions of vote fraud and election fraud and vote flipping are flat out fallacies. YouTube has announced a ban on any videos questioning the election results. And now on Monday all 538 electors have voted, formalizing Biden's 306-232 win. And while there is still Congress to get through, and the inauguration, based on social media and television news and practically every other point of information bombarding society today, Biden is now the President-elect.
But why now, after Government officials confirmed during Senate testimony that a foreign adversary, Russia, attempted to interfere in the 2016 United States Presidential Election via "a multi-faceted approach intended to undermine confidence in our democratic process." According to U.S. intelligence official reports, Russia targeted voter registration databases in at least 21 states and sought to infiltrate the networks of voting equipment vendors, political parties, and at least one local election board. And if their purpose was not so much to "hack" the election but create chaos and sow seeds of uncertainty around our election process, I would say they have won. But what if this cycle, it was Russia who somehow manipulated extra ballots and placed the blame on the Democrats? What if…?
Russian Experience With Voter Fraud
The 2004 presidential election in Ukraine saw suspiciously high turnout rates that "even Stalinist North Korea would envy," the State Department declared!
Back then, the U.S. government decried as corrupt an earlier election where special voting boxes were created to help citizens vote from home, election observers were expelled from vote counts, pre-election polls were wildly off, and voter turnout in certain communities exceeded 90%.
But the story of that Ukrainian election as recounted by then-Ambassador John Tefft to a Senate committee in December 2004 raises a tantalizing question for voters distrustful of the Nov. 3 elections results in our own 2020 Presidential Election: If tactics and outcomes in the Ukrainian election back then were enough to cry foul, why can't Americans debate similar concerns here?
Tefft's testimony raises an important question: Should America, the greatest democracy in the world, share any of the fraudulent attributes of a Ukrainian election? The answer for most Americans is hopefully resounding "No."
And despite continued and repeated headlines that there was no fraud, according to the Harvard Kenney School report on Election Integrity this cycle, expert assessments indicate that compared with 2016, the performance of this contest displays several warning flags, namely worsening confidence in the integrity of American elections and falling public trust, challenges to legitimacy arising from threats of campaign violence,legal disputes about the process and results, and public protests about the outcome, as well as growing attempts at voter suppression.
Advocates celebrate major US anti-money laundering victory
Landmark laws to thwart the use of U.S. shell companies by terrorists, human traffickers, arms dealers and kleptocrats are set to be enacted after more than a decade of lobbying and politicking with rare bipartisan support.
The sweeping anti-money laundering reforms hitched a lift in the annual defense spending bill that passed the Senate 84-13 today, and was approved by the House 355-78 earlier this week.
The Corporate Transparency Act requires U.S. companies to report their true owners to the Treasury Department's Financial Crimes Enforcement Network, known as FinCEN — largely ending anonymous shell companies in the country.
The International Consortium of Investigative Journalists has repeatedly documented how the rich, the powerful and the criminal have used anonymous entities to hide their wealth, including in the 2016 Panama Papers and the 2020 FinCEN Files investigations.
Welcoming the clampdown, Transparency International's U.S. director Gary Kalman said, "It is rare for such a simple measure to promise such an enormous impact." Kalman added that the long sought anti-corruption reforms would "move us into a new era of enforcement."
The new legislation will allow law enforcement agencies and financial institutions to request company ownership information from FinCEN. The data will not be publicly available.
FinCEN Files was based on a trove of suspicious activity reports filed by banks and other financial institutions to FinCEN. BuzzFeed News obtained the secret documents and shared them with ICIJ and more than 100 other media organizations.
The global investigation exposed how a broken U.S.-led enforcement system allows banks to continue to profit from moving dirty money tied to drug cartels, trafficking rings fueling the opioid crisis, fraud, organized crime, sanctions evasion, ruinous real estate schemes, and terrorism.
"Too many times, people … think money laundering is a federal, victimless crime. It is certainly not that," Sen. Sherrod Brown of Ohio, the top Democrat on the Senate banking committee, told reporters on a call organized by the advocacy group the FACT Coalition. "Sinaloa cartel actors, fentanyl traffickers have been destroying thousands of families in my state and across the country."
Earlier this year, Brown credited FinCEN Files for revealing the lack of forceful enforcement against banks that repeatedly violate the law. Advocates said a number of proposed bipartisan bills, including one co-sponsored by Brown, were instrumental in generating the support needed to attach the reforms to the spending bill.
"This is a really big deal to get this passed," Brown said Thursday. "No more hiding these abuses in anonymous shell companies. It also cracks down on bank officials who look the other way or actively aid money laundering."
A long time coming
ICIJ has shown how offshore shell companies have been used for dubious financial dealings and tax avoidance through a series of global exposés, including the Secrecy for Sale investigation, Panama Papers and Paradise Papers. U.S. lawmakers have repeatedly cited the investigations in proposing reforms over the years.
Countries like the United Kingdom, Indonesia and members of the European Union also took steps toward ending anonymous shell companies in response to ICIJ reporting.
"When the Panama Papers leaked, there was a huge flurry of interest because there's all of a sudden this recognition that it was kleptocrats, money launderers, corrupt officials the world over, as well as criminals, were all using a very common structure to help evade law enforcement, which was setting up an anonymous company," Lakshmi Kumar, policy director of Global Financial Integrity, said.
The phenomenon is not limited to the exotic offshore tax havens of popular imagination. U.S. jurisdictions like Delaware, Wyoming and Nevada are among the world's top locations to set up anonymous companies. Legislation to require corporations to disclose their true owners was first proposed in the U.S. over a decade ago, co-sponsored by then-senator Barack Obama, and similar bills have been introduced over the years.
Advocates credit years of lobbying a broad coalition of stakeholders, including the U.S. Chamber of Commerce which had previously been a leading opponent, in getting the reforms across the finish line this year.
"What's changed now is a growing understanding among various constituencies about the harms that anonymous companies pose, and the threats that they pose for our financial system, to our businesses," Clark Gascoigne, senior policy advisor at FACT Coalition, said.
But it's not a done deal quite yet.
Although the anti-money laundering proposals have had the support of the administration, President Donald Trump has repeatedly threatened to veto the National Defense Authorization Act over provisions unrelated to financial secrecy.
I hope House Republicans will vote against the very weak National Defense Authorization Act (NDAA), which I will VETO. Must include a termination of Section 230 (for National Security purposes), preserve our National Monuments, & allow for 5G & troop reductions in foreign lands!

— Donald J. Trump (@realDonaldTrump) December 8, 2020
Both the House and the Senate votes surpassed the two-thirds margin that would be needed to override a veto, although some Republicans have indicated that they would not support what would be the first veto override of the Trump presidency.
But the NDAA has been reliably passed by Congress every year for six decades and advocates are confident that the time has come for the landmark financial transparency measure that's included in the omnibus bill.
"It's one of the few areas where the outgoing Trump administration agrees with the incoming Biden administration," Gascoigne said. "It may be the first bill in the history of Congress that has the support of both Dow Chemical and Friends of the Earth. Heck, the state of Delaware even supports reform."
The post Advocates celebrate major US anti-money laundering victory appeared first on ICIJ.
Muslim Brotherhood suspect and Saudi billionaire linked to same offshore companies, Austrian report says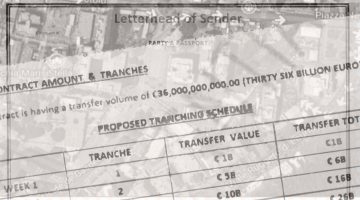 One of 30 people in Austria suspected to be members of the Islamic fundamentalist group Muslim Brotherhood was the director of offshore companies linked to a Saudi billionaire, according to an investigation by Austrian media outlets profil and Ö1.
The man, described as a 37-year-old Viennese entrepreneur with Iraqi roots, is suspected of "participating in a terrorist, subversive and criminal organization" and was a target of the police investigation into the group and the Palestinian extremist organization Hamas, the report said
The inquiry, which led 930 officers to raid 60 apartments, shops and clubs in four federal states last month, had no connection to the Vienna terror attack that killed four and injured 23 on November 2, according to officials cited by Deutsche Welle.
The Austrian report ー based on police records ー does not name the suspect, nor the Saudi businessman, for fear of hampering the ongoing probe into possible terror financing.
The pair's link to shell companies in the British Virgin Islands and other offshore financial centers was revealed for the first time after the reporters' examination of Paradise Papers, a trove of leaked documents obtained by Süddeutsche Zeitung and shared with the International Consortium of Investigative Journalists in 2017.
The 13.4 million files include incorporation documents, emails, contracts and other records from two offshore service providers and the company registries of some of the world's most secretive countries.
The Austrian man was listed as the director of several companies in the BVI, Malta and the Bahamas, the media report said. His address on the documents referred to an apartment in Vienna that belongs to the wife of one of the main suspects in the police investigation, according to a review of Austria's land registry records.
By cross-checking the confidential files with property records, the reporters also found that the shell companies owned properties in the U.K., including two office buildings, a commercial property and a retail park, worth about $73 million in total.
The documents show that a Liechtenstein trust owned by the Saudi businessman was behind those companies. The man is also known as a philanthropist who has financed Islamic studies at various European universities in recent years, including in Austria, the report added.
The complex offshore structure identified by the journalists is legal, the report said, but "can be used to disguise the flow of money and the identity of the true economic beneficiaries."
Profil and Ö1, two ICIJ media partners in Austria, asked the Viennese suspect about the purpose of the offshore company network and his link with the Saudi billionaire. A lawyer representing him declined to comment.
The post Muslim Brotherhood suspect and Saudi billionaire linked to same offshore companies, Austrian report says appeared first on ICIJ.