European lawmakers call for coordinated banking industry reforms in wake of FinCEN Files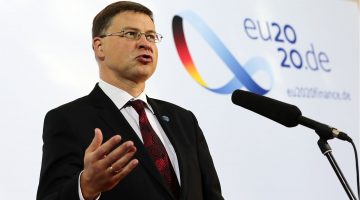 European lawmakers have called for widespread reform of how the banking industry is regulated in Europe and demanded a more coordinated approach to fighting money laundering during a parliamentary debate in response to FinCEN Files revelations.
Thursday's session of European Parliament devoted more than an hour to the debate, during which time a number of members pressed the need for more financial transparency and stronger oversight of money flows across the European Union.
European Commission vice-president Dubravka Šuica said EU countries needed to band together to close loopholes and stop the flow of dirty money.
"Time and again, we see criminals move [money] around the world with relative ease. Each new money-laundering revelation sparks more public anger … The FinCEN Files illustrate the vast scale of the problem," she said. "The European Union has to act decisively and collectively with the European approach to supervision, the European approach to financial intelligence coordination."
The FinCEN Files include more than 2,100 secret suspicious activity reports filed by nearly 90 financial institutions to the U.S. Treasury's Financial Crimes Enforcement Network, known as FinCEN. The documents were shared by BuzzFeed News with the International Consortium of Investigative Journalists and 108 media partners in 88 countries and include information on more than $2 trillion in suspicious transactions.
The year-long investigation shows that a number of global banks, including some of Europe's biggest banks — HSBC, Standard Chartered Bank and Deutsche Bank — kept profiting from powerful and dangerous players even after U.S. authorities fined these institutions for earlier failures to stem flows of dirty money.
Eero Heinäluoma, treasurer for the Progressive Alliance of Socialists and Democrats in the European Parliament, applauded the work of journalists in uncovering the scale of the problem and demonstrating that the existing anti-money-laundering system in Europe was like a "Swiss cheese, full of holes."
Heinäluoma was one of a number of members of European Parliament who called for the creation of a centralized EU agency to better police the cross-border money flows, and also hinted at the need for enforcement to go beyond financial penalties.
"Detecting and supervising suspicious cases is one thing, tackling and sanctioning is something else," he said.
"If we want to be serious in tackling [anti-money laundering], we need more deterring sanctions. Imposing big fines is all well and good, but I have not the impression that it changes fundamentally a culture. Here a stronger role for Europol is really needed."
Greens/European Free Alliance MEP Sven Giegold joined the call for a FinCEN-like body that could investigate suspicious transactions, and criticized the European Commission for merely observing "without acting" against jurisdictions or criminals abusing the financial system.
"The reason why some of the dirtiest banks, ABLV or banks in Cyprus are coming under pressure, is not because the European Commission or European national authorities have detected this, but because of the FinCEN," he said.
"The Commission doesn't talk about the central financial investigation unit in their proposals, but subsidiarity principle would mean that we need a one financial investigation unit so that we can be at par with the U.S."
Earlier in the month, European Commission vice-president for the economy Valdis Dombrovskis, whose remit includes overseeing Europe's fight against money-laundering, said that the commission would look at providing more resources to support national financial intelligence units in response to the FinCEN Files, but did not commit to establishing a Europe-wide agency. The commission will propose a series of new anti-money-laundering legal measures in the first quarter of 2021.
During Thursday's session, the parliament also passed a resolution addressing ongoing anti-corruption protests in Bulgaria that specifically called on the country to investigate the Bulgarian banks named in the FinCEN Files investigation. ICIJ's Bulgarian media partner Bivol reported that a state-owned bank in the country processed suspicious transactions worth millions of dollars linked to arms traffickers and known criminals.
The post European lawmakers call for coordinated banking industry reforms in wake of FinCEN Files appeared first on ICIJ.
Analyzing the Case for Election Fraud
Despite the overwhelming pressure, if you can't help but feel that tingling sense of knowing that is telling you there's more to the story, you are not alone. In fact, according to a new Rassmussen poll, nearly 50% of voters believe the election had issues. A quick look at the data blatantly shows that indeed, shenanigans abound (how can a state have 1+ million more mail-in ballots tallied than they sent out?). But was it fraud or masterful gamesmanship?
The world, or at least the global media, has spoken: Biden won the 2020 Election.
UPDATED FREQUENTLY WITH NEW INFORMATION – Last update 12/21/2020
A quick Google search reveals pages upon pages of reports of why the Trump team's assertions of vote fraud and election fraud and vote flipping are flat out fallacies. YouTube has announced a ban on any videos questioning the election results. And now on Monday all 538 electors have voted, formalizing Biden's 306-232 win. And while there is still Congress to get through, and the inauguration, based on social media and television news and practically every other point of information bombarding society today, Biden is now the President-elect.
But why now, after Government officials confirmed during Senate testimony that a foreign adversary, Russia, attempted to interfere in the 2016 United States Presidential Election via "a multi-faceted approach intended to undermine confidence in our democratic process." According to U.S. intelligence official reports, Russia targeted voter registration databases in at least 21 states and sought to infiltrate the networks of voting equipment vendors, political parties, and at least one local election board. And if their purpose was not so much to "hack" the election but create chaos and sow seeds of uncertainty around our election process, I would say they have won. But what if this cycle, it was Russia who somehow manipulated extra ballots and placed the blame on the Democrats? What if…?
Russian Experience With Voter Fraud
The 2004 presidential election in Ukraine saw suspiciously high turnout rates that "even Stalinist North Korea would envy," the State Department declared!
Back then, the U.S. government decried as corrupt an earlier election where special voting boxes were created to help citizens vote from home, election observers were expelled from vote counts, pre-election polls were wildly off, and voter turnout in certain communities exceeded 90%.
But the story of that Ukrainian election as recounted by then-Ambassador John Tefft to a Senate committee in December 2004 raises a tantalizing question for voters distrustful of the Nov. 3 elections results in our own 2020 Presidential Election: If tactics and outcomes in the Ukrainian election back then were enough to cry foul, why can't Americans debate similar concerns here?
Tefft's testimony raises an important question: Should America, the greatest democracy in the world, share any of the fraudulent attributes of a Ukrainian election? The answer for most Americans is hopefully resounding "No."
And despite continued and repeated headlines that there was no fraud, according to the Harvard Kenney School report on Election Integrity this cycle, expert assessments indicate that compared with 2016, the performance of this contest displays several warning flags, namely worsening confidence in the integrity of American elections and falling public trust, challenges to legitimacy arising from threats of campaign violence,legal disputes about the process and results, and public protests about the outcome, as well as growing attempts at voter suppression.
Advocates celebrate major US anti-money laundering victory
Landmark laws to thwart the use of U.S. shell companies by terrorists, human traffickers, arms dealers and kleptocrats are set to be enacted after more than a decade of lobbying and politicking with rare bipartisan support.
The sweeping anti-money laundering reforms hitched a lift in the annual defense spending bill that passed the Senate 84-13 today, and was approved by the House 355-78 earlier this week.
The Corporate Transparency Act requires U.S. companies to report their true owners to the Treasury Department's Financial Crimes Enforcement Network, known as FinCEN — largely ending anonymous shell companies in the country.
The International Consortium of Investigative Journalists has repeatedly documented how the rich, the powerful and the criminal have used anonymous entities to hide their wealth, including in the 2016 Panama Papers and the 2020 FinCEN Files investigations.
Welcoming the clampdown, Transparency International's U.S. director Gary Kalman said, "It is rare for such a simple measure to promise such an enormous impact." Kalman added that the long sought anti-corruption reforms would "move us into a new era of enforcement."
The new legislation will allow law enforcement agencies and financial institutions to request company ownership information from FinCEN. The data will not be publicly available.
FinCEN Files was based on a trove of suspicious activity reports filed by banks and other financial institutions to FinCEN. BuzzFeed News obtained the secret documents and shared them with ICIJ and more than 100 other media organizations.
The global investigation exposed how a broken U.S.-led enforcement system allows banks to continue to profit from moving dirty money tied to drug cartels, trafficking rings fueling the opioid crisis, fraud, organized crime, sanctions evasion, ruinous real estate schemes, and terrorism.
"Too many times, people … think money laundering is a federal, victimless crime. It is certainly not that," Sen. Sherrod Brown of Ohio, the top Democrat on the Senate banking committee, told reporters on a call organized by the advocacy group the FACT Coalition. "Sinaloa cartel actors, fentanyl traffickers have been destroying thousands of families in my state and across the country."
Earlier this year, Brown credited FinCEN Files for revealing the lack of forceful enforcement against banks that repeatedly violate the law. Advocates said a number of proposed bipartisan bills, including one co-sponsored by Brown, were instrumental in generating the support needed to attach the reforms to the spending bill.
"This is a really big deal to get this passed," Brown said Thursday. "No more hiding these abuses in anonymous shell companies. It also cracks down on bank officials who look the other way or actively aid money laundering."
A long time coming
ICIJ has shown how offshore shell companies have been used for dubious financial dealings and tax avoidance through a series of global exposés, including the Secrecy for Sale investigation, Panama Papers and Paradise Papers. U.S. lawmakers have repeatedly cited the investigations in proposing reforms over the years.
Countries like the United Kingdom, Indonesia and members of the European Union also took steps toward ending anonymous shell companies in response to ICIJ reporting.
"When the Panama Papers leaked, there was a huge flurry of interest because there's all of a sudden this recognition that it was kleptocrats, money launderers, corrupt officials the world over, as well as criminals, were all using a very common structure to help evade law enforcement, which was setting up an anonymous company," Lakshmi Kumar, policy director of Global Financial Integrity, said.
The phenomenon is not limited to the exotic offshore tax havens of popular imagination. U.S. jurisdictions like Delaware, Wyoming and Nevada are among the world's top locations to set up anonymous companies. Legislation to require corporations to disclose their true owners was first proposed in the U.S. over a decade ago, co-sponsored by then-senator Barack Obama, and similar bills have been introduced over the years.
Advocates credit years of lobbying a broad coalition of stakeholders, including the U.S. Chamber of Commerce which had previously been a leading opponent, in getting the reforms across the finish line this year.
"What's changed now is a growing understanding among various constituencies about the harms that anonymous companies pose, and the threats that they pose for our financial system, to our businesses," Clark Gascoigne, senior policy advisor at FACT Coalition, said.
But it's not a done deal quite yet.
Although the anti-money laundering proposals have had the support of the administration, President Donald Trump has repeatedly threatened to veto the National Defense Authorization Act over provisions unrelated to financial secrecy.
I hope House Republicans will vote against the very weak National Defense Authorization Act (NDAA), which I will VETO. Must include a termination of Section 230 (for National Security purposes), preserve our National Monuments, & allow for 5G & troop reductions in foreign lands!

— Donald J. Trump (@realDonaldTrump) December 8, 2020
Both the House and the Senate votes surpassed the two-thirds margin that would be needed to override a veto, although some Republicans have indicated that they would not support what would be the first veto override of the Trump presidency.
But the NDAA has been reliably passed by Congress every year for six decades and advocates are confident that the time has come for the landmark financial transparency measure that's included in the omnibus bill.
"It's one of the few areas where the outgoing Trump administration agrees with the incoming Biden administration," Gascoigne said. "It may be the first bill in the history of Congress that has the support of both Dow Chemical and Friends of the Earth. Heck, the state of Delaware even supports reform."
The post Advocates celebrate major US anti-money laundering victory appeared first on ICIJ.
Muslim Brotherhood suspect and Saudi billionaire linked to same offshore companies, Austrian report says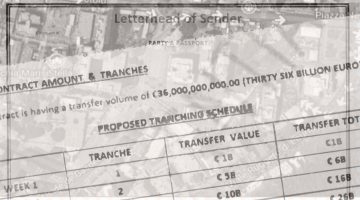 One of 30 people in Austria suspected to be members of the Islamic fundamentalist group Muslim Brotherhood was the director of offshore companies linked to a Saudi billionaire, according to an investigation by Austrian media outlets profil and Ö1.
The man, described as a 37-year-old Viennese entrepreneur with Iraqi roots, is suspected of "participating in a terrorist, subversive and criminal organization" and was a target of the police investigation into the group and the Palestinian extremist organization Hamas, the report said
The inquiry, which led 930 officers to raid 60 apartments, shops and clubs in four federal states last month, had no connection to the Vienna terror attack that killed four and injured 23 on November 2, according to officials cited by Deutsche Welle.
The Austrian report ー based on police records ー does not name the suspect, nor the Saudi businessman, for fear of hampering the ongoing probe into possible terror financing.
The pair's link to shell companies in the British Virgin Islands and other offshore financial centers was revealed for the first time after the reporters' examination of Paradise Papers, a trove of leaked documents obtained by Süddeutsche Zeitung and shared with the International Consortium of Investigative Journalists in 2017.
The 13.4 million files include incorporation documents, emails, contracts and other records from two offshore service providers and the company registries of some of the world's most secretive countries.
The Austrian man was listed as the director of several companies in the BVI, Malta and the Bahamas, the media report said. His address on the documents referred to an apartment in Vienna that belongs to the wife of one of the main suspects in the police investigation, according to a review of Austria's land registry records.
By cross-checking the confidential files with property records, the reporters also found that the shell companies owned properties in the U.K., including two office buildings, a commercial property and a retail park, worth about $73 million in total.
The documents show that a Liechtenstein trust owned by the Saudi businessman was behind those companies. The man is also known as a philanthropist who has financed Islamic studies at various European universities in recent years, including in Austria, the report added.
The complex offshore structure identified by the journalists is legal, the report said, but "can be used to disguise the flow of money and the identity of the true economic beneficiaries."
Profil and Ö1, two ICIJ media partners in Austria, asked the Viennese suspect about the purpose of the offshore company network and his link with the Saudi billionaire. A lawyer representing him declined to comment.
The post Muslim Brotherhood suspect and Saudi billionaire linked to same offshore companies, Austrian report says appeared first on ICIJ.