Ukrainian Security Services Close Illegal Cryptocurrency Exchanges
The Ukrainian Security services closed illegal cryptocurrency exchanges involved in illicit financial activities like money laundering as we are reading more in our latest crypto news. The Ukrainian security services known as the SBU closed down plenty of crypto exchanges reported to have transacted illegally since 2021. the SBU said in a statement, referred to […]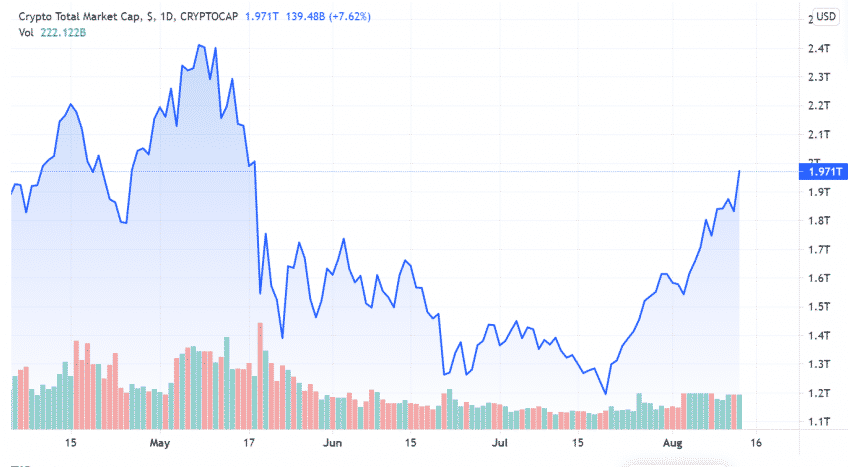 The Ukrainian Security services closed illegal cryptocurrency exchanges involved in illicit financial activities like money laundering as we are reading more in our latest crypto news.
The Ukrainian security services known as the SBU closed down plenty of crypto exchanges reported to have transacted illegally since 2021. the SBU said in a statement, referred to crypto exchanges as the network of "clandestine" known for the illicit transactions and they added that the clandestine crypto exchanges network was situated in Kyiv as the country's capital. They processed a turnover of $1.1 million per month in funds connected to criminal activity.
Source Crypto Total Market Cap on TradingView.com
Most people today wish to stay anonymous online and other effective ways are out there to achieve that and privacy experts and organizations think that's a fundamental right of humans but the financial watchdogs across the world keep on seeing transfers as gray payments. The Security Service of Ukraine announced and accused the illegal crypto exchanges of providing transaction services that are deemed anonymous.
The SBU added that these types of illegal services were tagged as money laundering risks and they also revealed that some people funneled money via these exchanges across the country to arrange the protest. SBU revealed that the illegal funds emanate from electronic wallets that were linked to the Russian banned payment process and they are many like Qiwi, Yandex, and WebMoney. The Ukrainian Security Services recovered some computers with evidence of the suspected illegal activities and in addition, they forged documents of incorporation for the forms during the foray of crypto exchange platforms.
The news about crypto exchanges shutting down came within the period of the raid accusing the warehouse of electricity diversion and it was said to have used the diverted electricity in mining crypto with PlayStation 4 consoles. However, the investigation by a local business publisher Delo showed that the warehouse used a facility in generating in-game currency but they were not farming crypto with it as Delo revealed.
In the meantime, the Parliament of Ukraine considers issuing a new crypto bill and this will be proposing crypto legalization across the country but the legislative action isn't intended to change that BTC and cryptos are not legal tenders. The Central Bank of Ukraine is handling a project on national digital currency and the National Bank of Ukraine got an official authorization to start issuing CBDCs. There's a joint partnership between the Stellar Development Foundation and the Ministry of Digital Transformation and they are collaborating to strategize for CBDCs and digital assets jointly. The new crypto-related bill will allow payments in crypto like BTC in Ukraine even though it doesn't qualify as a legal tender.