South Korea Stages Shut Down For 11 Cryptocurrency Exchanges: Report
South Korea stages shut down for 11 cryptocurrency exchanges due to being linked to allegations of fraud in these platforms as we read further in our latest cryptocurrency news. The Financial Services Commission is the top financial regulator in South Korea and this I the first move from the FSC to temporarily stop the operations […]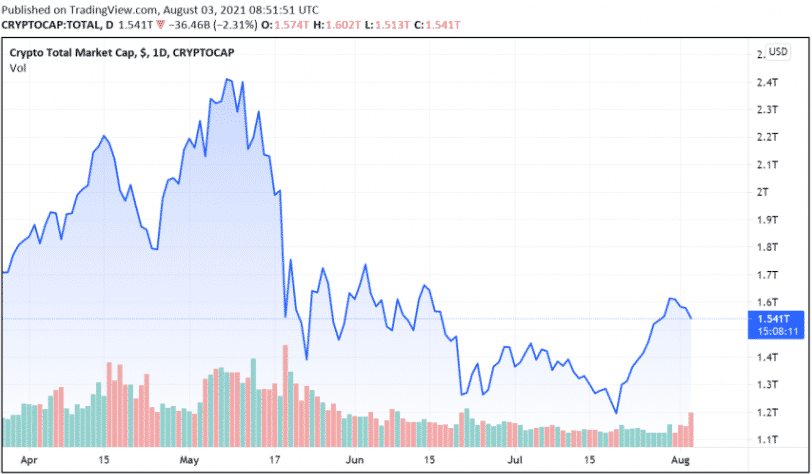 South Korea stages shut down for 11 cryptocurrency exchanges due to being linked to allegations of fraud in these platforms as we read further in our latest cryptocurrency news.
The Financial Services Commission is the top financial regulator in South Korea and this I the first move from the FSC to temporarily stop the operations of 11 crypto exchanges. Reporting on Sunday, the Korea Herald is a local news agency claiming that the FSC move is based on unclear operations by these exchanges. South Korea stages shut down for these exchanges due to allegedly having fraudulent collective accounts and illegal activities.
Source Crypto Total Market Cap on TradingView.com
According to the news publication, while citing unknown industry sources there are still no name disclosures for the exchanges but these exchanges are not going to get approvals for operations from the authorities. From the news sources, the FSC will decline all approval for the affected crypto exchanges. This regulator plans to enforce stricter regulatory actions on minor exchanges. The news on the crash came in the middle of the recent suspension of operations by some minor exchanges in South Korea and one of these suspensions is the announcement made by Bitsonic, a local crypto exchange. The official Telegram channel said that the exchange will make temporary operational discontinuation because of the internal and external challenges.
CPDAX is another smaller crypto platform and it said that it will stop operations while Darlbit exchange closed operations as well which came after it suspended withdrawals and deposits services from the previous month. The FSC is yet to respond to the plans to crash the growing crypto exchanges. Going by the recent trend of events, tehre has been stricter regulatory moves on exchanges in South Korea and the financial regulators in the country mandated the full registration for the local crypto service platforms.
Furthermore, the authorities gave them till September to establish non-fictitious trading accounts and recording systems so as per the report, customers' real-name accounts are part of the prerequisites to operate their businesses. In line with the regulatory measures, the FSC is planning to ban the cross-trading platforms and the agency sees it as illegal trade since it concealed the flow of transactions. Cross-trading is the means via which trading platforms buy or sell orders for the asset without a reflection in their order book and in addition, Cross-trading allows these crypto platforms to earn trading fees and its banning will make a significant negative impact on the revenue stream.