SEC Appointed Senate Aide As Advisor To Oversee Crypto Policies
The SEC appointed senate aide Corey Frayer as a new advisor to oversee crypto policies, joining Gary Gensler's executive staff so let's read more in our latest cryptocurrency news. Corey Frayer joined the SEC's executive staff as a senior advisor on the agency's oversight of crypto. The US SEC chair Gary Gensler picked Corey Frayer […]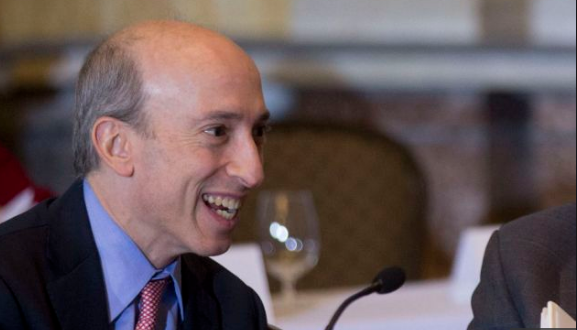 The SEC appointed senate aide Corey Frayer as a new advisor to oversee crypto policies, joining Gary Gensler's executive staff so let's read more in our latest cryptocurrency news.
Corey Frayer joined the SEC's executive staff as a senior advisor on the agency's oversight of crypto. The US SEC chair Gary Gensler picked Corey Frayer as his senior advisor to facilitate the policymaking that is related to the regulator's oversight of crypto assets. Accoridng to the SEC announcement, Frayer will provide guidance regarding the Commission's Interagency operations that are related to digital assets. Before joining the SEC, Frayer served as a senior staffer on the US Senate Committee on Banking Housing as well as Urban Affairs under chairman Sherrod Brown.
Gery Gensler
Before that, he worked as a senior advisor responsible for issues related to consumer and investor protection but also emerging financial technologies for the US Representative Maxine Waters on the House Financial Service Committee. In addition to the SEC, the appointment of Phillip Havenstein, Jennifer Songer, and Jorge Tenreiro as the operations counsel and investment management counsel but also enforcement counsel.
The SEC appointed Senate aide because of his exceptional experience and Gensler said he has already started to rely on their valuable counsel on policy, enforcement, and agency operations. Frayer's appointment came on the heels of the resignation of Republican commissioner Elad Roisman from the SEC earlier this month. Roisman stepped down from his role in January and was a vocal opponent of the number of Gensler's priorities sided with the fellow commissioner Hester Peirce in her pursuit of the approach to which assets constitute securities.
When Gensler taught the course on blockchain at MIT who took office in April most in the crypto industry hoped that under his direction of the SEC will take a moderate approach towards crypto as a new asset class. One thing that many American investors hoped for was the approval of a highly anticipated spot BTC ETF but the SEC soon eliminated those hopes with Gensler making clear his preference for the ETF which tracked BTC futures instead. While the number of Bitcoin futures ETFs that were approved over the past year and the SEC delayed or disapproved applications for the physically-backed BTC ETF and just last week, the SEC rejected filings for a spot BTC ETF that was proposed Kyptoin and Valkyrie.
With the new arrivals, the SEC is going to step up its efforts at creating a more comprehensive regulatory framework for crypto. According to the Galaxy Digital CEO Mike Novogratz said that Gensler wants to be a sheriff of Cryptoville.