BlockFi Faces Scrutiny From The SEC Over High-Yield BTC, ETC Products
BlockFi faces scrutiny from the SEC after months of pushbacks from other regulators as well including Alabama, Kentucky, Vermont, and New Jersey over its high-yield Bitcoin and Ethereum products as we can see more in our latest Bitcoin news today. BlockFi faces scrutiny overs its high-yield crypto savings accounts and now the US SEC started […]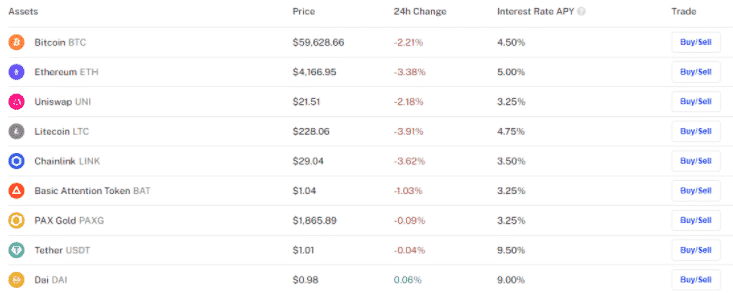 BlockFi faces scrutiny from the SEC after months of pushbacks from other regulators as well including Alabama, Kentucky, Vermont, and New Jersey over its high-yield Bitcoin and Ethereum products as we can see more in our latest Bitcoin news today.
BlockFi faces scrutiny overs its high-yield crypto savings accounts and now the US SEC started investigating the company. The New Jersey-based crypto company allows users to lend and borrow crypto assets like Bitcoin and Ethereum as well as stablecoins like Tether and USD Coin. Also, the rate of return on the dollar pegged crypto assets outpaced one of the banks. The users can now earn 9.5% on their Tether holdings and deposits in BTC can yield at an interest rate of 4.5%. the SEC started reviewing whether the interest-earning accounts are securities and if the commission determines that the BIAs are securities, then BlockFi will operate without being registered with the SEC.
BlockFi offers variable interest rates on several popular cryptocurrencies. Source BlockFi.
The financial regulators in Alabama, Texas, Kentucky, New Jersey, and Vermont all raised similar concerns around the BlockFi products in the past few months and the regulators in New Jersey explicitly ordered BlockFi to stop offering the products to residents of the state. This is not the first time that the SEC took aim at the crypto lending and borrowing sector. The Commission even threatened to sue Coinbase as per the CEO Brian Armstrong if the company went ahead with the Lend product.
The BlockFI BIAs similar to LEND will allow users to earn 4% interest on their USD coin holdings but the company eventually backed down and didn't even launch. In the meantime, Celsius is a company that offers interest on crypto holdings and it is also facing regulatory scrutiny like the one aimed at BlockFi. Centralized companies are not the SEC's only objective. SEC Chairman Gary Gensler also turned his attention towards the Defi space as many of the projects such as Compound and Aave offer yield-bearing instruments that are not dissimilar to BlockFi and Celsius. Gensler even said that the decentralized finance platforms implicate securities laws but also some platforms implicate commodities laws as well as banking laws.
As recently reported, Texas and New Jersey noted that the Celsius API partner program is reaching for these accounts because the API partners can then offer and sell the unregistered Celsius Earn Interest-Bearing Account to their clients. None of this according to the regulators is sanctioned by the state because Celsius has not registered with the agencies nor with the SEC to start selling securities that are tradeable investment products.